Blog
•
August 3, 2023 8:27 PM ET
10 Metal Guitars To Own in 2023: From Iconic to Cutting-Edge
When choosing your first axe, first find one that best fits your playing style so you enjoy playing
What are the top metal guitars for beginners?
---
For any aspiring metal guitarist, finding the perfect instrument is crucial to creating the thunderous riffs and searing solos that define the genre.
In this ultimate guide, we present 10 guitars tailored for playing metal. From iconic classics to cutting-edge innovations, these instruments deliver the punch you need for your new (or nu) metal journey.
Favored by countless metal guitarists, the ESP LTD EC-1000 boasts stunning aesthetics, excellent sustain, and a crushing tone. Its mahogany body and set-thru construction produce resonant lows, while active EMG pickups provide unrivaled clarity and power.
Designed for fast and furious metal playing, the Jackson Pro Series Soloist SL2 features an aggressive body shape and a fast neck. The Floyd Rose tremolo system ensures impeccable tuning stability.
An iconic metal guitar, the Ibanez RG550's super-thin Wizard neck enables lightning-fast riffing. The HSH pickup configuration and double-locking tremolo system offer versatile tones and wild whammy bar antics.
The PRS SE Custom 24 Floyd is a true workhorse designed to handle the rigors of metal music. Equipped with dual humbuckers and a Floyd Rose 1000 Series tremolo, this guitar allows for aggressive dive bombs and precise tuning adjustments during intense performances. The 24-fret wide thin maple neck ensures effortless playability, making it an excellent choice for shredders who seek both versatility and reliability in their metal journey.
The Schecter Hellraiser C-1's sinister looks and active EMG pickups cater to modern metal players seeking crushing low-end response and articulate highs.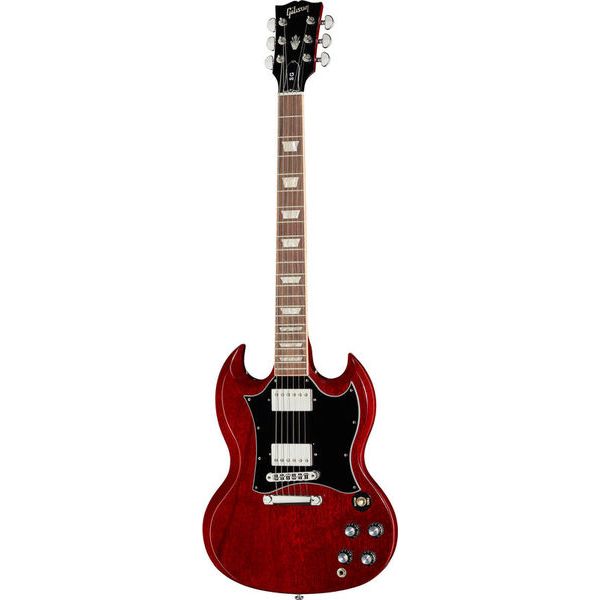 The Gibson SG Standard is a timeless metal guitar with a lightweight mahogany body and a set neck construction, delivering excellent resonance and sustain. Equipped with powerful humbucker pickups and a slim-taper neck profile, it produces thick and aggressive tones while offering fast and comfortable playability for intense metal playing. Its iconic double-cutaway design ensures easy access to higher frets, making it a versatile choice.
Built to Jim Root's specifications, this Telecaster features active EMG pickups and a slab mahogany body for a raw and aggressive metal tone.
A tribute to Dimebag Darrell, this guitar's extreme body shape and high-output DMT pickups pay homage to Pantera's legendary metal sound.
Designed in collaboration with Ola Englund, the Washburn PX-SOLARV16ETC is a V-style metal guitar with a neck-thru construction, ensuring exceptional sustain. Its aggressive Duncan Solar pickups deliver crushing high-gain tones with clear articulation, while the fixed Tune-o-Matic bridge provides rock-solid tuning stability.
The Charvel Pro-Mod DK24 HH FR boasts a compound-radius fretboard and versatile HH pickup configuration, catering to a wide range of metal styles with comfort and precision.
Choosing the right guitar is essential for any metal guitarist aiming to craft their unique sound and style. Our list of 10 metal guitars offers a mix of classic and innovative models, each one with unique features to meet the needs of any metal fan looking to break into the world of creating their own headbangers.
---
Be the first to comment